Guest chefs at Rancho Gallina
As Michael Pollan said in an interview in the latest issue of Lucky Peach magazine, "if you look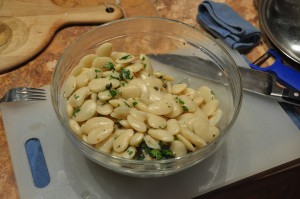 back through history, cooking was very often a cooperative activity."  He argues that the isolation of one cook in the kitchen (usually with an already busy life) has helped deliver us into the hands of the often unhealthy, un-tasty, fossil fuel intensive, prepared food industry.
Our solution?  Communal cooking.  We love having friends to cook with, people who come and share their tastiest secrets with us.  And we are always happy to reciprocate.  The preparation of every dish becomes a cooking class, only it's a two-way learning process.
Recently, we were lucky enough to have a real, live, professional chef come and share our kitchen.  Jennifer Redies is the chef owner of the Little Pink Kitchen (LPK), a weekly meal preparation and delivery business for folks in the Denver area who have busy lives and still want fresh, healthy, nearly-home-cooked meals.
Out of the kitchen flew dish after dish: lamb meatballs with homemade harrissa, tortilla Española with Romesco sauce, herbed gigante beans, pizzas with three cheese and truffle oil, one with onion and heirloom tomato, and one with prosciutto, fresh tomato sauce and kale.  The cocktails did not disappoint either.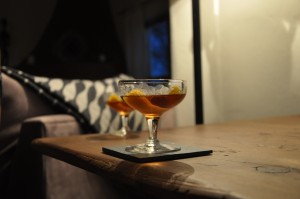 Of course it is nice to have a pro in the kitchen, but almost everybody has some tasty tricks or recipes to share: grandma's mac and cheese, mom's meatballs.  Some of my most memorable meals came from the kitchens of humble yet spectacular home cooks.  From time to time, we hope to share some of these secrets of our kitchen guests with you, the lucky reader.
Jennifer's take on the weekend: "I just had the best tortilla of my life. Honestly, I am not a fan of Spanish tortillas. They are often dry, cold, and bland with potatoes that are hard to swallow.   Mitch mentioned that he'd been practicing them and wanted to make one on Saturday. I decided that if anyone could change my mind about the tortilla Mitch could and whole heartily agreed.
"Plus it afforded the perfect chance to try some tapas recipes I had been curious about.  Cooking with Mitch was a blast and we put together a fantastic spread that worked for our meat eating and vegetarian friends alike. Tapas are good that way.  As suspected, I am now an enthusiastic Spanish tortilla convert. To make one as good as Mitch's, try this:" (recipe adapted from the fabulous Claudia Roden)
Tortilla Española (Spanish "Omlette")
Ingredients: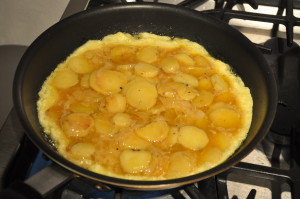 ½ pound waxy potatoes
1 Medium onion
6 eggs
lots of olive oil
Salt to taste
Slice the potatoes into thin (1/8 inch) slices.  Cut the onion in half and slice it very thin.  Heat a good quantity of oil in a non-stick skillet and poach the onions and potatoes covered over a low heat.  There should be enough oil to come about 2/3 the way up the potatoes.  Other recipes will call for frying or boiling the potatoes, but I like this method best.
While that is cooking, beat the eggs well with a fork or whisk and add a little salt.
Stir the potatoes occasionally to make sure nothing sticks or browns, salt to taste, and cook until the potatoes are soft so that a fork goes in easy.  Then drain well in a colander with a pot underneath to catch the oil that is now flavored with onion and potato.   Whatever you don't use cooking the tortilla will be great in salad dressing or for cooking.
Add potatoes and onions to the eggs and let sit for a good 15 minutes or more to let the flavor saturate.  Then heat the pan over a medium flame, add 1-2 Tbsp of the oil back in and pour in the egg mixture.
Shake the pan and loosen the edges with a rubber spatula.  Use the spatula to peek underneath, and when the tortilla is browning nicely, you are ready for The Flip.
This is where "you have to have the courage of your convictions," as Julia Child used to say.  Put a concave lid or a pan slightly larger than the bottom one on top and in one bold move flip the tortilla.  Then slide the uncooked side as gracefully as possible back into the pan and cook until that browns as well.  If you need to you may always flip again, as it will help shape your tortilla.
When both sides are speckled with brown you are done: slide the tortilla onto a nice serving plate.  The tortilla can be served warm or cold.  If it is cooked perfectly the inside will still be slightly runny (if this bothers you, cook longer on a lower heat).  Serve with your sauce of choice, with crusty bread, with manchego cheese or jamón Serrano, or just on its own, for any meal or simply for tapas.
Buén provecho!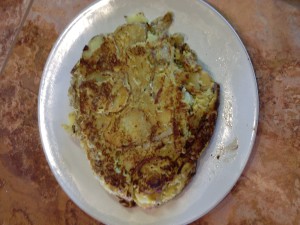 Share This