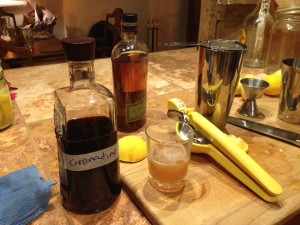 This month's "Imbibe" magazine (thanks to Ana Portillo-Moody and Michael Randall for the subscription) featured one of my favorite cocktails: the Ward 8. Alas, having no  grenadine, a critical element, I set out to make my own.
Real grenadine is delicious, colorful, full of rich flavor, made with real pomegranate (less Shirley Temple, corn syrup and red dye #9, more "brown-eyed women and red grenadine, the bottle was dusty but the liquor was clean").
Here's the method (adapted from Portland, OR barman Jeffrey Morgenthaler's website jeffreymorgenthaler.com, which also offers a handy tip for juicing a pomegranate):
2 cups pomegranate juice, fresh if possible
1 1/2 cups cane sugar
2 oz pomegranate molasses (middle eastern markets carry it)
1 oz vodka or grain alcohol to preserve
1 tsp orange blossom water (also available at middle eastern markets, and a fantastic addition of floral scent and flavor to a wide range of cocktails)
Heat pomegranate juice over a medium low flame, add sugar and stir to dissolve without boiling. Mix in the pomegranate molasses, take off the heat, add the orange blossom water and liquor (as a preservative), bottle, cool, store in the fridge.
From there the Ward 8 is simple:
2 oz rye
1/2 oz fresh lemon juice
1/4 oz fresh orange juice
1/4 oz grenadine
Shake it all over ice, pour, enjoy. "Imbibe" recommends ice cubes and soda water. I prefer it straight up with maybe a wide strip of orange rind for garnish. L'chiam (that's ranch talk for cheers!)
Share This