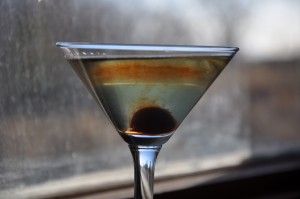 What else would you call it when someone from NY (though not Manhattan) moves to NM (though not Los Alamos) and continues his lifelong quest for sublime whisky cocktails?
The Manhattan Project of course refers to the joint US-UK-Canadian effort to develop the atomic bomb. It was dubbed thus because the US Army component of this effort was originally headquartered out of 270 Broadway in NYC. The Los Alamos National Laboratory was built in a secluded spot nestled in the Jemez mountains to house Project Y, the team tasked with actually developing and building the bomb, headed by J. Robert Oppenheimer. The first atomic detonation – the Trinity test – was also in NM, at what is now the White Sands Missile Range.
The Manhattan of course refers to a delicious, classic cocktail. Its origins are a murky and disputed subject. It is made traditionally (as a good friend recently reminded me) with rye, sweet vermouth and bitters, though it is now commonly made with bourbon or other whiskies. In fact, there are numerous, tasty offspring of the drink, such as the Rob Roy, made with Scotch. The traditional American recipe calls for a 2:1 ratio, though the International Bartenders Association, measuring in centiliters, calls for 2 ½: 1.
Apparently, the English-metric conversion is an extremely complex procedure that requires a rocket scientist, so I have offered recipes in both proportions. Feel free to use either proportion with either drink – the cocktail is not a formula but a journey.
Now, the recipes: I recommend these tasty riffs on the Manhattan to make two cocktails, for several reasons. First, it is always more fun to drink with a buddy. Second, rather than getting bombed by your first drink, you may want to enjoy several different beverages over the course of an evening. The second recipe is especially large, so don't hog it all for yourself – share.
The Manhattan Project (this drink is The Bomb!)
2 ½ oz Santa Fe Spirits' Silver Coyote Whisky (santafespirits.com) – this may be hard to get outside NM, so substitute your favorite rye or bourbon, or just come visit us
½ oz sweet vermouth (my favorite are the old, Italian recipes: Carpano Antica, Cocchi, or Punt e Mes, or the fine, French Dolin will also do)
½ oz Chartreuse
2 dashes bitters (Angostura is the tradition, but you can experiment. I like the wormwood bitters available at cocktailkingdom.com)
Stir for 30 seconds with ice, strain into 2 chilled cocktail glasses. Garnish with a maraschino cherry – a real one, not the nasty kind made from enriched plutonium. If you can't find a good brandied or fresh cherry try an apple or pear slice.
For a variation you can use all Chartreuse instead of the vermouth. If you use the silver whisky the drink will be a nice color.  The drink pictured above is all Silver/Chartreuse with the Angoustura added directly to the glass for visual effect.  In cocktails as in food, sight and smell matter.
The Monk's Manhattan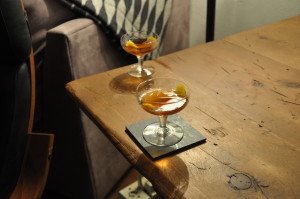 3 oz rye or bourbon
1 oz high quality sweet vermouth (see above)
½ oz Benedictine (along with Chartreuse, this is one of the best, ancient, secret monk recipes. Where Chartreuse is colorful and botanic, Benedictine has a bit of spicy cinnamon flavor that's great with brown spirits)
2 dashes Angostura and/or wormwood bitters
Stir for 30 seconds over ice. Strain into 2 chilled cocktail glasses. Garnish with a good cherry or other fruit or a citrus peel (see above). Find a designated driver and enjoy.
Cheers!
Share This