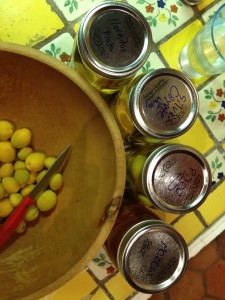 As we sip the last remains of our summer infusions, I am ready to share their simple secrets. Many people like to preserve the summer's bounty by canning their favorite fruits and vegetables, making vats of tomato sauce to freeze, or pickling their harvest. I find that infusing a good base spirit with fresh, local fruit is a frightfully quick and easy way to make an impressive house liqueur that can in turn produce fabulous cocktails.
This past summer, Santa Fe enjoyed a bumper crop of apricots, which I understand occurs about every 7 years (check our summer 2019 blog on the reliability of that pattern). Our good friends Morty Simon and Carol Oppenheimer brought out their ladder each time we visited them and encouraged us to pick to our hearts delight.
To infuse your favorite spirit with a delicious stone fruit like an apricot, simply cut into them, fill an appropriate jar about 1/3 full with the fruit and top off with the spirit of your choice. Shake every now and then to pulverize the fruit and get some of the nuttiness of the pit (or don't), and you will have a tasty infusion in as little as a few weeks, though I encourage waiting a solid month.
With our apricots we tried mezcal, tequila, pisco, and Santa Fe Spirits' Silver Coyote whiskey – which is tasty, perfect for an infusion, and makes us anxiously await the distiller's first aged whiskey, due out this summer we are told. All spirits produced great results.
To then concoct your house liqueur, make a simple syrup – either with cane sugar by heating and dissolving a 1:1 water to sugar solution – or with honey or agave nectar in a 2:1 water to honey/agave solution. Many homemade limoncello or other liqueur recipes will recommend a 1:1 ratio of liquor to simple syrup, but I find that way too sweet. I recommend starting with 2:1 and add more sweet to your taste. Pour your homemade hooch in a sexy bottle, label it, and impress your next round of guests as you serve up your luscious liqueur after dinner in vintage cordial glasses.
Or keep your infusion straight and make a cocktail like this one:
1 oz tasty infusion
1 oz bourbon (or match the base spirit of your infusion)
1 oz Cointreau, Curaçao, Patron Citronge or other nice orange liqueur
3 dashes orange bitters
Stir with ice for 30 seconds and strain into a nice glass with an artistically cut orange peel garnish.  For an extra floral aroma blast, top off with a few drops of orange blossom water.
We love this cocktail and have enjoyed it throughout the fall and winter, but sadly have not yet named it – any suggestions?
By the way, we learned that Martha Washington enjoyed an infusion made with the cherries they (i.e. their slaves) grew at Mt. Vernon and the rye they produced at their distillery. I haven't yet learned what Michelle Obama is mixing up with the bounty of her White House garden, but I'm sure she's come up with something good.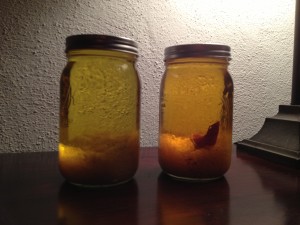 Of course, I am well aware that it is no longer summer in our hemisphere and nobody is sitting around with buckets of stone fruit handy. Sooooo, we've got our limoncello soaking away – not quite as local but we added a couple of Chimayó red chiles to half the batch for good measure. Stay tuned for the results and the recipe…
Share This